In any mining exploration project, quickly getting a feel for the deposit is vital in making good decisions. When you can make the most of all your data, you can have confidence that your model accurately represents what's going on beneath the surface. Models are based on real data, but in an exploration project, that data comes from a multitude of sources and in many different formats. Only when you can work with all your data can you build the most accurate picture of the subsurface geology.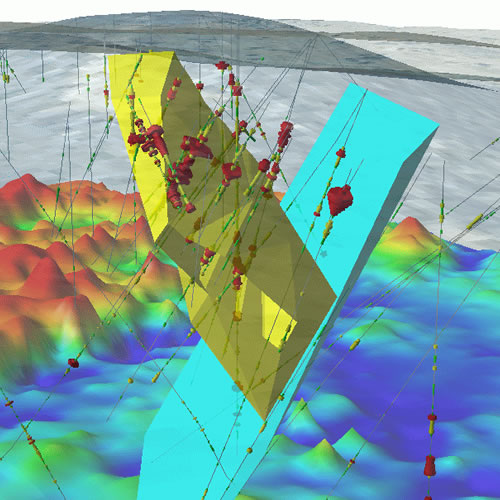 3D geological modeling, analysis and interpretation has become essential as mineral exploration has become progressively more focused on deep, under cover and brownfields targets. A project's success depends on the understanding of each deposit's 3D geometry. This knowledge is gained thru the use of 3D GIS in mineral exploration to utilize all available parameters to evaluate exploration, grade distribution, and resource estimation. Integrating different types of data such as geology, alteration, metallurgy, recovery, geophysics within a single 3D environment adds significant value to the existing data model.
GeoGRAFX provides the in-house capability to create three-dimensional (3D) explicit and implicit geologic models that fully incorporate geological, geophysical, geochemical, and geotechnical data from a variety of data sources to enable a better understanding of an ore deposit and serve as a basis for decision making in drillhole targeting and resource estimation. We work with an extensive set of 3D-GIS, exploratory data analysis, and visualization tools to ensure data integrity and enhance interpretational insight.
Request further information or a quote for services.