Utilizing a diverse range of tools and techniques, GeoGRAFX provides innovative computer-based data integration, management, and presentation services which cover the entire spectrum of the mineral exploration and mining industry, from grass-roots reconnaissance maps to the preparation of auditable databases for feasibility studies. The service allows large volumes of data to be processed rapidly and so allow real-time decision-making. This brings measurable benefits in terms of visualization and data management. These, in turn, enable you to add value to your data.
All data projects are managed and conducted by experienced geoscientists and software engineers trained and skilled in the application of computer technology to mineral exploration. GeoGRAFX' turnkey approach to data capture and processing allows rapid movement of geological, geophysical, and geochemical data into a structured and usable format. Solutions are seamless and cost-effective and may be applied to various earth science applications including geological, hydrological, and geotechnical exploration, site characterization, and environmental mapping, assessment, monitoring, and remediation.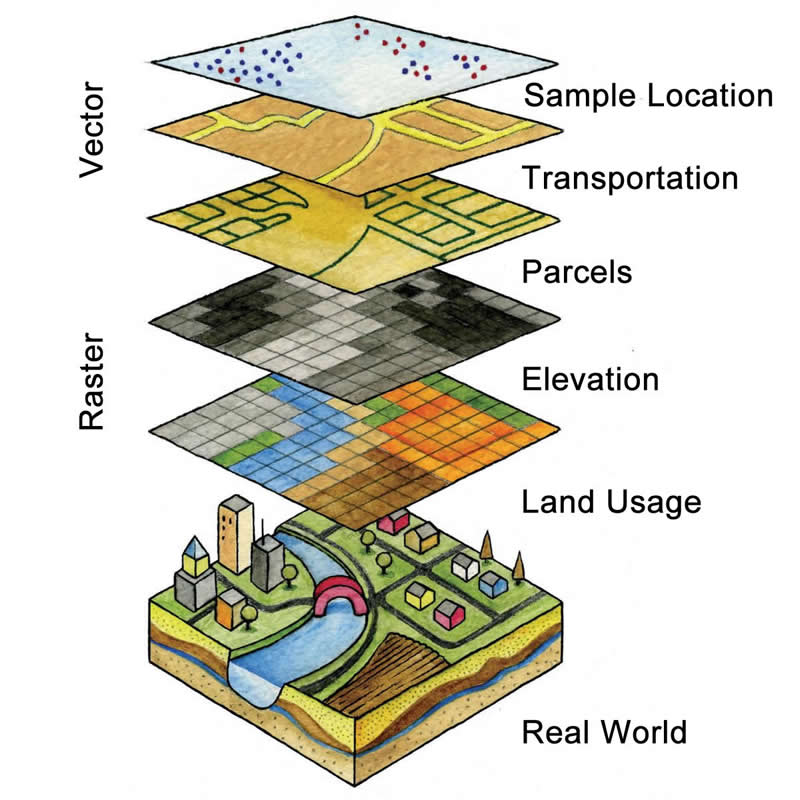 Historically, maps were created on layers of mylar,velum or paper and overlaid one over another on a light table to analyze data, and define potential targets.  Lettering was done with a Leroy set. This was before smartphones and laptops; we didn't deal with different projections or databases. GIS technology and applications have changed all that. The technology has enhanced our ability to  collect and integrate data, to perform spatial analyses and produce GIS maps, create 3-dimensional models, graphics, and data tables.
GeoGRAFX understands the concepts underlying GIS data. We use the latest GIS technology and applications to apply the most cost-effective solutions that will meet your requirements. You tell us the questions you need answered using GIS technology, and we deliver it.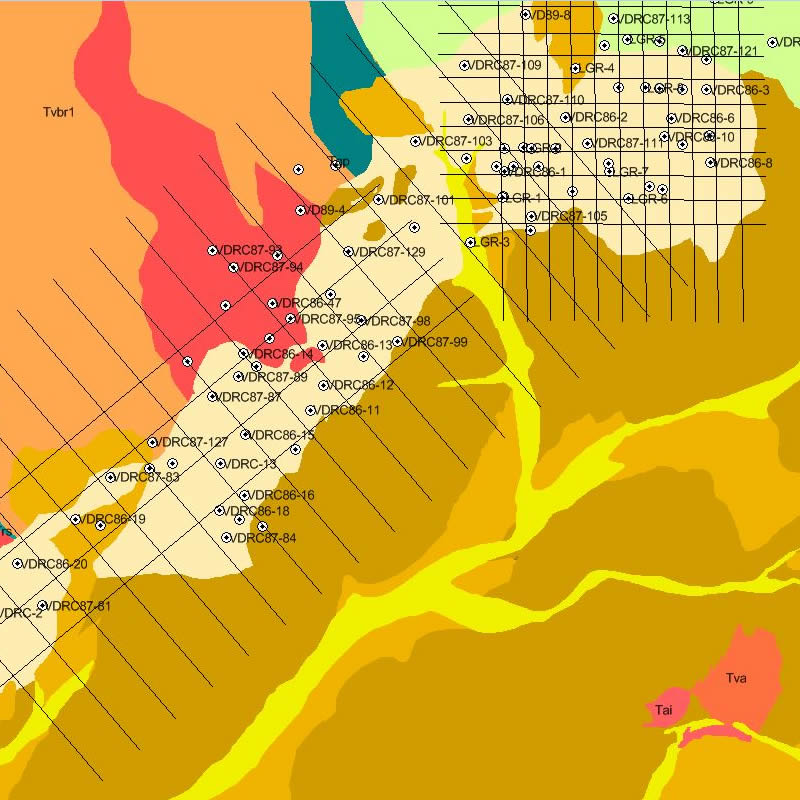 Mapping is an essential component for targeting deposits, project planning, and resource development.
GeoGRAFX utilizes GIS mapping software to visually display & analyze numerous layers of data. This enables large amounts of technical information to be conveyed simply and effectively through a visual medium. Many different types of data can be integrated into a GIS and represented as a map layer. Examples can include topography, land status, mineral occurrences, drill hole locations, soil sampling & geochem data, geology, geophysics, ortho imagery, and any other geodata you may have. When these layers are drawn on top of one another, undetected spatial trends and relationships often emerge. This allows us to gain insight into the relevant characteristics of a project.
coordinate transformation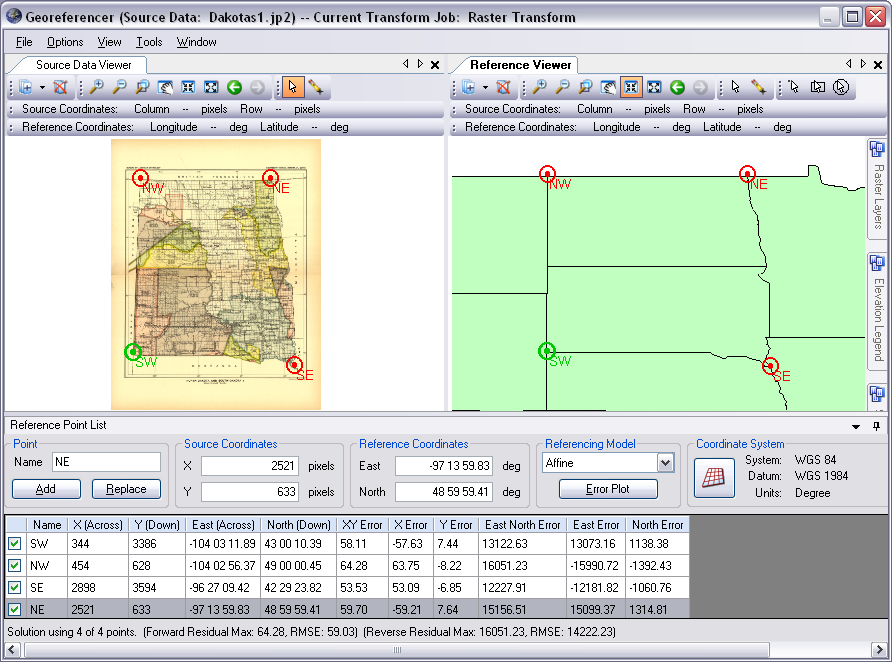 Legacy mine data was historically surveyed in a local mine grid with reference to an arbitrarily established 0,0 point. Traditionally, Autocad was the software of choice to manage this type of data. However, Autocad data does not include projection information. It contains X and Y coordinates that can reference any possible coordinate system.  While the survey data itself is internally consistent, at some point it will need to be converted to real-world coordinates to merge with other data sets.
GeoGRAFX utilizes several useful utilities that allow for the quick and accurate conversion of both vector and raster datasets.  If the client is working with the MapInfo platform, GeoGRAFX can construct a custom projection that allows the local mine grid to integrate seamlessly with real-world coordinates.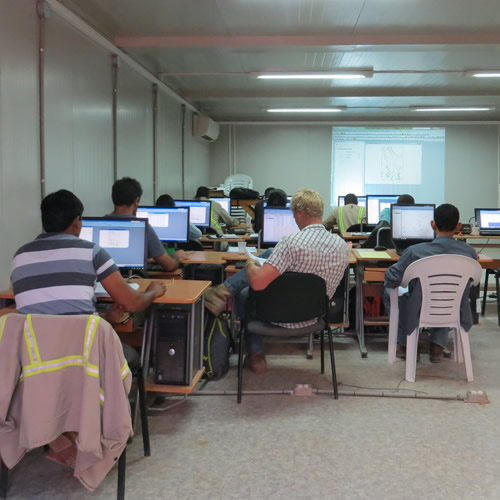 Products such as MapInfo Professional® and Encom Discover® are ready to use right out of the box. However, as with all software, there is a learning curve. Maximize your time and software investment through a custom training course designed to provide geologists with an overview of the product capabilities as well as a thorough understanding of many advanced features.
We can send our instructors to your location to teach any of our classes (standard or specialty). You'll benefit from personal, private instruction and save time and money by eliminating travel and related costs for your group.
Courses:
Intro to MapInfo/Discover
Intermediate MapInfo/Discover
Discover 3D
GIS Data Standards
GIS Development Management Strategies
Target Selection
Request further information or a quote for services.