Datamine Discover Mobile makes Discover GIS projects portable to mobile devices.
This one-day course will familiarize both new and existing Datamine Discover users with the suite of functions available in Discover Mobile. The course introduces the basics of creating Discover Mobile projects on the desktop for use in the android mobile environment. The software combination, designed especially for the geosciences, provides the tools to effectively compile, visualize, collect, and map spatial geosciences data in the field. The course consists of instructor-led lecture, "hands-on" software experience, and data collection exercises in the field.
Each attendee is required to provide their own laptop and mobile device. An evaluation license for both MapInfo and Discover can be provided where required and must be installed prior to the course.
This course is recommended for clients already familiar with the concepts outlined in the the introduction MapInfo/Discover course.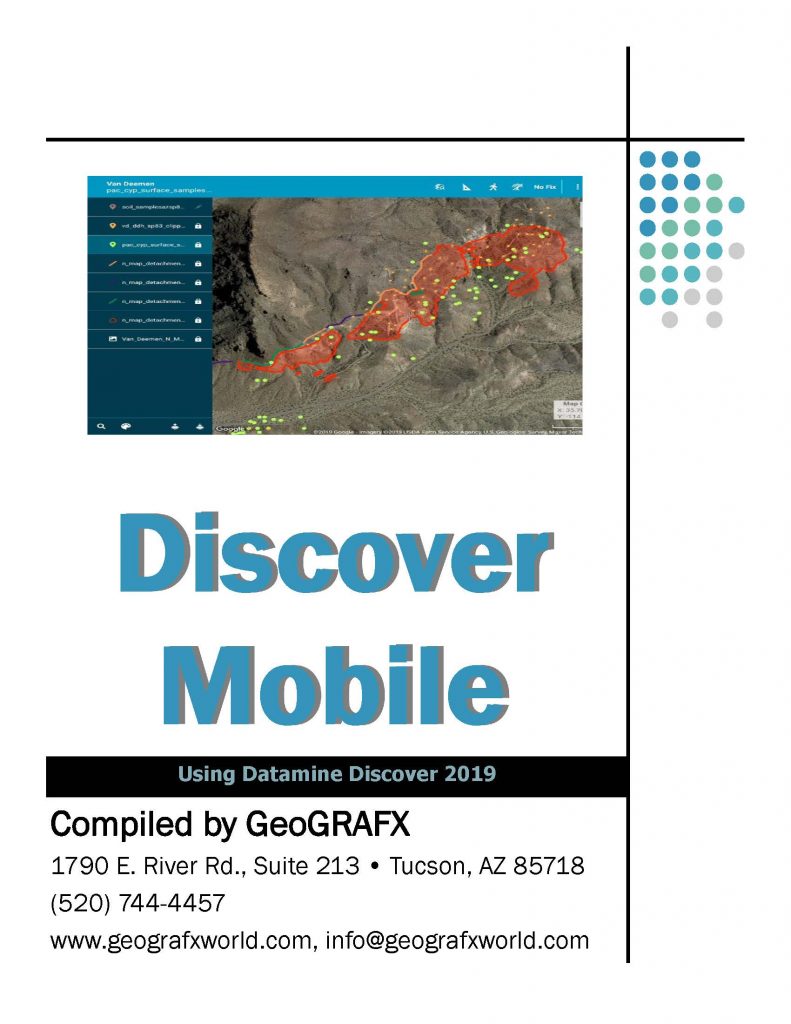 Transfer a wide range of GIS data onto a mobile device for use the field including images, grids, vector files.
Create picklists, data validation tools to aid in data collection in the field.
Use Discover Mobile's interface to open and manage relevant file types on the mobile device.
Understand and use Discover Mobile's map window to display and query information.
Work in an offline environment and cache google base map files onto the device for use when not connected to a network.
Collect point and line data in the field and associate it with attribute data and images.
Use the waypoint finder to navigate to points of interest.
Merge collected field data back into their desktop MapInfo files and back into company data repositories.
Review additional useful Discover tools and utilities.
Course Description:
Click here for the complete course description.
Course Duration
1 day; 8:30am – 5:000pm
Training Centers & Dates:
| Registration | Location | Notes | Date |
| --- | --- | --- | --- |
| Completed | Tucson, AZ | | Nov 25, 2019 |
| Completed | Tucson, AZ | | Dec 12, 2019 |
Request further information or a quote for training.